New from December 2023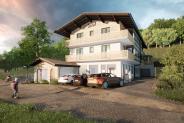 We used the autumn to implement a few long-planned improvements to the house.
From December 23, the time has finally come! Our new features at a glance:
New communal kitchen
The aging breakfast kitchen will be replaced by a new fully equipped kitchen. Our 3 rooms without their own kitchen now have all the amenities, such as induction cooker, dishwasher, oven, coffee machine, microwave and much more!
For a community evening, larger groups can also use the kitchen (on request).
Bonus: The coffee machine and drinks fridge is accessible to all guests 24 hours a day!
E-car charging station
Directly in front of the house by the guest parking spaces we have a 22kw e-car charging station - the go-e gemini wallbox. Your e-car can be quickly charged there at any time.
New façade with thermal insulation
A step towards less resource consumption. With 16 cm of insulation, less energy is consumed. And with less CO2 emissions, your stay will also be more sustainable.
Weitere Bilder